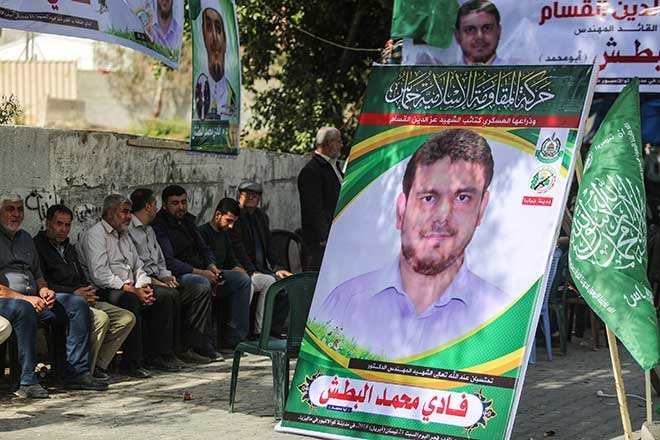 MOSSAD suikastları
35 yaşındaki http://www.chroniquepalestine.com/israel-envoie-commandos-tueurs-contre-diaspora/">Filistinli biliminsanı Fadi el-Batş'ın Malezya'nın başkenti Kuala Lumpur'da öldürülmesi, İsrail tarafından tehdit olarak kabul edilen Filistinlilere yönelik olarak yürütülen suikast programı üzerindeki örtüyü kaldırdı. El-Batş Gazze'de Elektrik Mühendisliği eğitimi görmüş ardından aynı konu üzerinde Malezya'da doktora yapmıştır. Elektrik ve enerji sistemleri ekonomisi alanında uzmanlık yapmış ve bu konu üzerinde çok sayıda bilimsel makale yayınlamıştır.
HAMAS El-Batş'ın grubun önemli bir üyesi olduğunu açıklamış ve İsrail'in istihbarat örgütü MOSSAD'ı bu suikastın arkasında olmakla suçlamıştır.
HAMAS'a göre El-Batş « yasal » bir üye ve enerji alanında « önemli katkılar » sağlayan ve uluslararası toplantılara katılan « Filistinli genç araştırmacılar üyesi bir biliminsanıydı ».
El-Batş'ın babası El-Cezire'ye yaptığı açıklamada MOSSAD'ı oğlunun öldürülmekle suçlamış ve Malezyalı yetkilileri bu ölümcül komployu en kısa zamanda aydınlatmaya çağırmıştır.
İsrail istihbaratının en seçkin uzmanlarından biri ve Rise and Kill First: the Secret History of Israel's Targeted Assassinations kitabının yazarı olan İnvestigaction'un İsrailli gazetecisi Ronen Bergman'a göre, El-Batş cinayeti bir MOSSAD operasyonunun tüm izlerini taşımaktadır.
Bergman El-Cezire'ye telefonla yaptığı açıklamada « saldırganların başka birçok MOSSAD operasyonunda olduğu gibi hedeflerini öldürmek için motosiklet kullanmış olmaları ve infazın İsrail'den uzakta net ve profesyonel bir şekilde yürütülmüş olması, MOSSAD'ın suç ortaklığına işaret etmektedir » dedi.
Hedefin belirlenmesi
İsrail istihbaratınca cinayet için hedef belirlenmesi süreci normal şartlarda MOSSAD içerisinde ve daha da geniş kapsamlı olarak İsrail istihbaratı ve siyasi yönetim aygıtında çok sayıda kurumsal ve örgütsel aşamadan geçmektedir.
Hedef kimi zaman farklı ulusal ve askeri istihbarat birimlerince belirlenmektedir.
Örneğin El-Batş, HAMAS'ı izleyen İsrail askeri ve casusluk örgütleri içerisindeki birimler aracılığıyla bir genel istihbarat listesi oluşturma faaliyeti sayesinde hedef olarak belirlenmiş olabilir.
El-Batş aynı şekilde, İsrail istihbaratının ve dünya üzerindeki casusluk şebekelerinin başka operasyonları aracılığıyla da seçilmiş olabilir.
Bazı kaynaklar El-Cezire'ye HAMAS'ın Gazze, İstanbul (Türkiye) ve Beyrut (Lübnan) arasındaki iletişiminin İsrail istihbaratının ağları tarafından çok yakından izlendiğini belirtmektedirler. Böylece başlangıçta El-Batş bu bağlantılar aracılığıyla da hedef olarak seçilmiş olabilir.
El-Cezire'nin sorularını yanıtlayan El-Batş'ın adlarının gizli tutulmasını isteyen bazı arkadaşları, kurbanın HAMAS ile bağlarını hiç gizlemediğini söylediler. Bir arkadaşı « Filistinliler arasında HAMAS ile olan ilişkileri olan biri olarak tanınıyordu » dedi.
Suikast süreci
El-Batş'ın hedef olarak belirlenmesinden sonra MOSSAD'ın, onun öldürülüp öldürülmemesi gerektiği, öldürülmesinin hangi faydaları sağlayacağı ve infaz için kullanılacak en iyi yöntem konusunda karar vermek üzere istihbarat kaynaklarını değerlendirdiği düşünülüyor.
MOSSAD'ın konuyla uzman ilgili biriminin hedefe ilişkin dosyayı tamamlamasından sonra örgüt, İsrail istihbarat örgütleri başkanlarından oluşan ve İbranice kısaltması olan VARASH ya da Vaadan Raşej Ha-şerutim adıyla tanınan istihbarat servisleri komitesi sorumlularına sonuçları aktarmaktadır.
VARASH sadece operasyonu tartışacak ve görüş ve önerileriyle katkıda bulunacaktır. Öte yandan bu oluşumun bir operasyonu onaylamak için hiçbir yasal yetkisi bulunmamaktadır. Sadece İsrail Başbakanı bu yetkiye sahiptir.
Bergman'a göre, İsrail Başbakanları genel olarak siyasi nedenlerle bu tür kararları tek başına almamayı tercih etmektedirler.
« Genel olarak Başbakan karar alma sürecine çoğu zaman Savunma Bakanı olmak üzere, bir ya da iki bakanı da dahil etmektedir » diyor Bergman.
Bir kez onay elde edildikten sonra, operasyon planlama ve uygulama için MOSSAD'a geri gelmekte ki bu da hedefin durumuna göre haftalar, aylar ve hatta yıllar sürebilmektedir.
Kayserya (Caesarea) Birimi
Kayserya, MOSSAD'ın başta Arap ülkeleri olmak üzere dünya çapında casusların yerleştirilmesi ve yönetiminden sorumlu gizli bir operasyonel koludur.
Söz konusu birim 1970'li yılların başında kurulmuş ve kurucularından biri Mike Harari adlı ünlü bir İsrailli casustur.
Kayserya birimi Arap devletlerindeki ve Ortadoğu genelindeki geniş casusluk ağını bugünkü ve gelecekteki hedefler hakkında istihbarat toplamak ve bunları gözetlemek için kullanmaktadır.
Harari daha sonra kendine bağlı, İbranice Kidon (« süngü ») adıyla tanınan, suikast ve sabotaj operasyonlarında uzmanlaşmış profesyonel katillerden oluşan en ölümcül birimi kurmuştur.
Kidon üyeleri çoğu zaman ordu ve özel birlikler içerisinden seçilmektedir.
El-Cezire'ye bilgi veren kaynaklar Kuala Lumpur'da El-Batş'ı öldürenlerin muhtemelen Kidon'a bağlı ajanlar olduklarını belirtmektedirler.
MOSSAD sadece Filistinli yönetici ve harekat unsurlarını değil ama aynı zamanda Suriye, Lübnan, İran ya da Avrupalı olanları da hedef almaktadır.
Suikast Operasyonları
Kayserya, CİA'nin yeniden örgütlenmesinden önce Özel Faaliyetler Bölümü olarak adlandırılan ve 2016'da ismi değiştirilen Özel Faaliyetler Merkezi'nin (SAC) İsrail'deki karşılığıdır.
CİA top-secret paramiliter –suikast operasyonlarının da dahil olduğu– görevlerini SAC'ın bünyesinde yer alan ve İsrail Kidon'uyla bazı benzerlikleri bulunan Özel Operasyonlar Grubu (SOG) aracığıyla yürütmektedir.
Bergman, işgal altındaki Filistin topraklarında ikinci İntifada'nın başlangıcına denk gelen 2000 yılına dek, İsrail'in hedeflerin yanı sıra yoldan geçenler de dahil olmak üzere 1000'den fazla insanın ölümüne neden 500'den fazla suikast operasyonunu yürüttüğünü yazıyor.
Kitabında, İsrail'im ikinci İntifada süresince ek olarak 168'i başarıyla sonuçlanan 1000 daha operasyon gerçekleştirdiğini anlatıyor.
O dönemden beri İsrail, Gazze şeridi ve yurtdışında HAMAS'ın sivil ve askeri liderlerini öldürmek amacıyla ayrıca en az 800 operasyon daha yürütmüştür.
Arapların MOSSAD ile işbirliği
MOSSAD, başta Ürdün ve Fas casusluk örgütleri olmak üzere kimi Arap istihbarat servisleriyle sıkı kurumsal ve tarihsel ilişki içerisindedir.
Yakın zamanda, bölgedeki değişken ittifakların ve devlet dışı silahlı aktörlerin artan tehditleri ışığında MOSSAD kimi Körfez devletleri ve Mısır'daki Arap istihbarat örgütleriyle bağlarını güçlendirmiştir.
MOSSAD'ın, Ortadoğu'daki operasyonları için Ürdün'ün başkenti Amman'da bir bölge merkezi bulunmaktadır.
MOSSAD, 1997 yılında HAMAS lideri Halit Meşal'i kulağına öldürücü dozda zehir püskürterek öldürmeye kalkıştığında, merhum Kral Hüseyin İsrail ile imzalanan barış anlaşmasını feshetme, istihbarat servisinin Amman'daki istasyonunu kapatma ve İsrail-Ürdün arasındaki ilişkileri askıya alma tehdidinde bulunarak, İsrail'i Meşal'in hayatını kurtaracak panzehiri vermeye mecbur etmiştir.
Bergman kitabında, dönemin Ürdün istihbarat başkanı General Samih Batiki'nin, operasyonun planlanması sürecine katılmak istemesine rağmen, suikast komplosu hakkında kendisine bilgi vermediği için MOSSAD'a çok kızdığını teyit eden MOSSAD kaynaklarından söz etmektedir.
Bergman'ın araştırmalarına göre 1960'lı yıllardan beri bir başka Arap ülkesi daha MOSSAD ile yakın ilişki içerisindedir: bu ülke Fas'tır.
« Fas İsrail'den çok değerli istihbarat ve teknik yardım alarak karşılığında Hasan (merhum Kral) Fas'lı Yahudilere İsrail'e göç etme ve Arap ülkelerine yönelik casusluk yapabilmesi için MOSSAD'a başkent Rabat'ta bir istasyon açma izni verdi » diye yazıyor Bergman.
İşbirliği öyle bir noktaya ulaşmıştı ki, Fas MOSSAD'a 1965 yılında Rabat'ta toplanan Arap Birliği toplantısı sırasında Arap devlet başkanları ve komutanlarının toplantı salonlarına ve özel odalarına mikrofonlar yerleştirmesine izin bile verdi.
Söz konusu zirve bir ortak Arap askeri komutanlığı oluşturulması için düzenlenmişti.
CİA ve MOSSAD'ın kullandığı yöntemler
Kimin öldürüleceğine karar vermek için geniş yetkilere sahip olan MOSSAD ve diğer İsrail istihbarat örgütlerinin aksine CİA, bunun için Adalet Bakanlığı, CİA Hukuk Bürosu (« Office of General Counsel, OGC ») ve Beyaz Saray Hukuk Danışmanı Bürosunu da içine alan çeşitli düzeylerde zorlu bir hukuksal süreç izlemektedir.
CİA'nin bir suikast operasyonunu yürütmesi, son aşamada çoğunlukla OGC, Adalet Bakanlığı tarafından yazılan Presidential Finding Authorization (PFA) adlı hukuksal belge aracılığıyla Başkanlık onayına bağlıdır.
Bu belge CİA'ye suikast görevlerini uygulaması için bir yasal yetki vermektedir.
Başkanın PFA'yı imzalamasından önce, çeşitli düzeylerde birçok kurumu içeren ve özellikle de Adalet Bakanlığı, Beyaz Saray ve CİA'nin hukukçularının yürüttüğü bir gözden geçirme süreci yürütülmektedir.
Barack Obama'nın ABD Başkanı olarak, özellikle insansız hava aracı saldırısı yoluyla http://www.info-palestine.eu/spip.php?article13438">yaklaşık olarak 353 suikaste izin verdiği tahmin edilmektedir.
Hukuksal süreç
Adının açıklanmasını istemeyen eski bir CİA yetkilisi El-Cezire'ye yaptığı açıklamada « CİA'nin kimin öldürüleceğini kararlaştırmadığını », « hukuksal sürecin CİA'nın sadece kötü olarak kabul ettiği için birini öldürmesini çok zorlaştırdığını » söylemektedir.
CİA'nin suikast operasyonlarının birçoğu insansız hava araçlarıyla ve Başkan'ın onayıyla gerçekleştirilmektedir.
Eski bir operasyon yetkilisi olan Robert Baer El-Cezire'ye verdiği demeçte şunları söylemektedir: « Özellikle büyük değere sahip bir hedef söz konusu ise Beyaz Saray'ın suikastı imzasıyla onaylaması gerekmektedir. »
« Öte yandan Afganistan ve Irak'ta olduğu gibi eğer operasyon bir savaş alanında ya da savaş sırasında yürütülüyorsa işler farklılaşır: bu durumda sahadaki görevliler kendi suikastlarını infaz etmek için daha geniş bir yasal yetkiye sahiptirler. »
Süreci yakından izleyen kaynaklara göre MOSSAD açısından, herhangi bir hedefe yönelik suikastın meşruluğu konusu çok daha serbestçe değerlendirilir ve bu süreç CİA'deki gibi hukuksal zorluklar içermemektedir.
İsrail'in suikast politikasına işaret eden Baer « bu onların ulusal siyasetlerinin bir parçasıdır » demektedir.
Ali YOUNES
Özgün kaynak: https://www.aljazeera.com/news/2018/04/mossad-carries-assassinations-180422152144736.html
(www.reseauinternational.net sitesinde 11 Mayıs 2018 tarihinde Ali YUNES imzasıyla yayınlanan Fransızca yazıdan Türkçeleştirilmiştir https://reseauinternational.net/le-mode-operatoire-des-assassinats-menes-par-le-mossad/ )